HOUSE VOSLOO
House vosloo was designed by Beverley Hui architects for a wine farm in Devon Valley near Stellenbosch. The basement houses a small wine processing plant ans cellar. The house has two floors above that in an H-shaped house plan. The moder n open plan design of the living areas on the top floor captures stunning views of Cape Town.


MODERN STYLE
The house was designed by the architect in a top modern style, with many corner windows, cantilevered architectural beams and bold masses. However the architecture remains light and elegant, with much interest.


MODERN ARCHITECTURE - HOUSE VOSLOO

Beverley Hui architects designed this modern house to have sweeping architectural beams and huge modern windows with solar glass.
Read more about this modern house...
MODERN ARCHITECT DESIGN - HOUSE VOSLOO

The architect designed the house in a modern architecture style with giant corner windows to take in the views of Cape Town and Stellenbosch.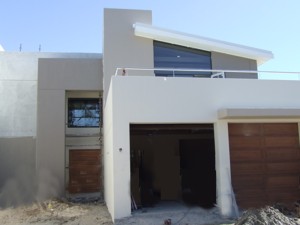 MODERN RESIDENTIAL ARCHITECTURE - HOUSE VOSLOO

Cape Town architect Beverley Hui designed a modern roof at 10 deg.
copyright © Beverley Hui Pr Arch